We've started the New Year with a bang (make that literal gunfire in my neighborhood https://www.youtube.com/watch?v=dxo0F8k3jA0). We've survived another year in the New Millennium, thanks to God's providential mercies. We've endured the pain, enjoyed the blessings, and now hope for a wonderful 2015. Time to trust God and step out in faith, no matter what our circumstance.
January's challenge themes were Yummy, Abandoned, White, Trio and Low Tech -- a wide array of choices for our shooting pleasure (aren't clichés wonderful?!). We were given five Saturdays to venture into the known and unknown haunts of our little worlds to grapple with the dilemma of 'what shall I shoot today?'
Looks like it will be another Don and Dave show again for January. That's okay -- not everyone is bitten by the shutterbug. We'll just have to put up with their panoply (monopoly?) of pictures one more time. If this bothers any of us, we know what we can do to protest.
***************************************************
Don's first submission fits the Abandoned theme. He says, "For abandoned, we have an old house that is slowly falling." This was taken on Klau Mine Road, west of Paso Robles. We can certainly see the power of entropy here as years of destruction tear down this place that was once a happy home. It's strange to think that left unattended, our homes will end up like this as well.
Low Tech is captured in Don't second photo. Once a common fixture across America, the windmill is now a relic of the past. Frozen with rusty gears, a few still stand here and there, reminding us of the ever-moving wheel of progress. Hey, this would look cool in my backyard, though.
Can we guess Don's reason for shooting these mailboxes? If you're thinking Yummy or White, you're wrong. Note there are exactly three boxes. Hey, it must be the Trio theme! Nice cedar tree and fence to compliment them.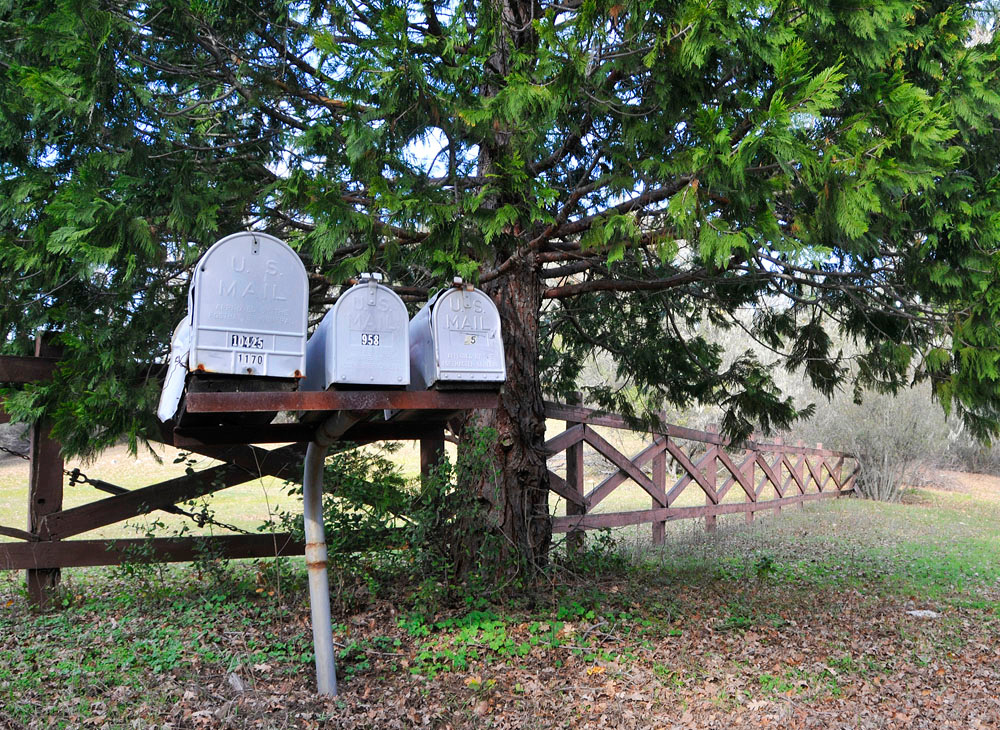 Well, what do you think about these cupcakes? Should they be in the Trio or Yummy category? Don says, Yummy, and so be it. Are your taste buds aroused, trying to think of what these would taste like? I can taste each one in my mind - and not intake one calorie! Pretty cool, but not much fun. Wonder if he and Janet actually paid good money for any of these. Don says, "I'll start out with Janet's Yummy pics. We went down to the Rocky Mountain Chocolate Factory with the Nikon Coolpix for that category."
More yummies coming up.
"We also ran across this abandoned TV. As you can see, it works perfectly including the picture, in picture, in picture. I believe that qualifies it for the trio category, also. This was done by layering in Elements11." Now we know what Don does in his spare time. Very creative, Don. Note the touch of the sunglasses placed on the TV. Not sure about the significance there, but am sure there was a method behind his madness. Hey, that looks like my old 32" Toshiba!
Don's White themed photo features a white fence and bare tree canopies. Nice composition. Note the Round Up swath protecting this fence from melting if the field catches fire this summer or someone tosses a cigarette butt that catches the field on fire. Either way, that's a lot of Round Up getting into the water table! Ha!
***********************************************
Yours truly did a lot of shooting in January, so you'll have to grant him a few extra photo submissions. Thanks.
Low Tech can be seen in these first two pictures, both taken in Sutter Creek. The first at an antique store and the old gauge at Knight's Foundry on Eureka Street. Please help me identify the heart and circle shaped items and the 'Asbestos' piece. I didn't ask the three old ladies who were minding the store. They were too busy admiring my aussie hat, anyway.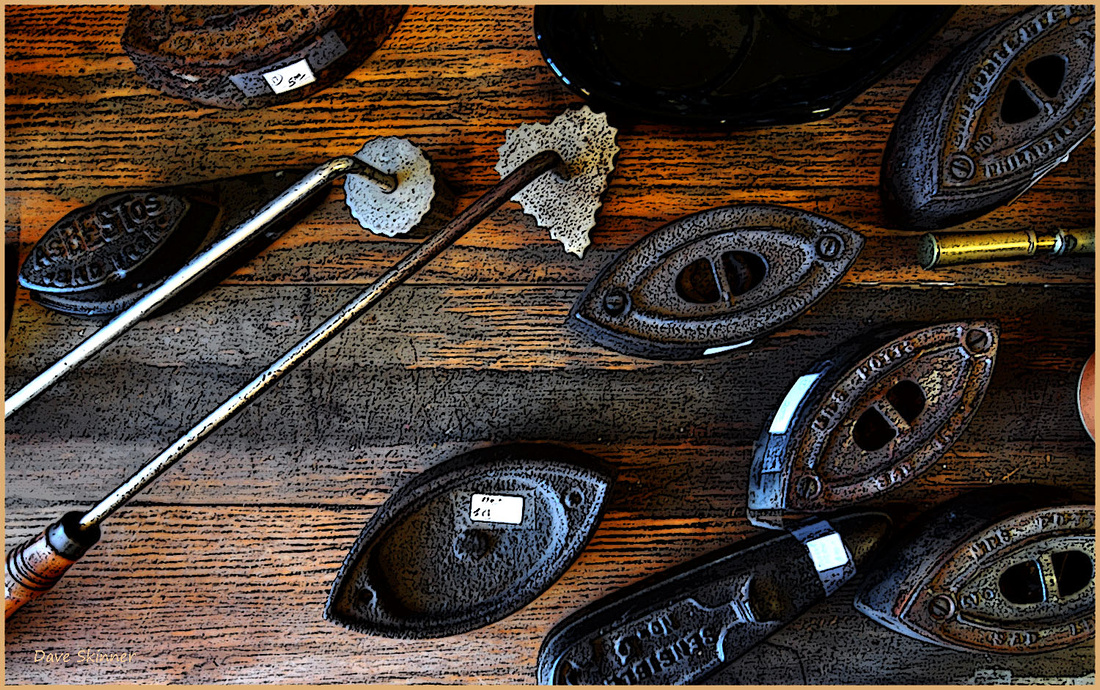 Knight's Foundry is one of my favorite places to shoot in Sutter Creek. I've taken pictures of this gauge before. This time I removed all the color, then added the light yellow back in on the gauge for another Low Tech photo.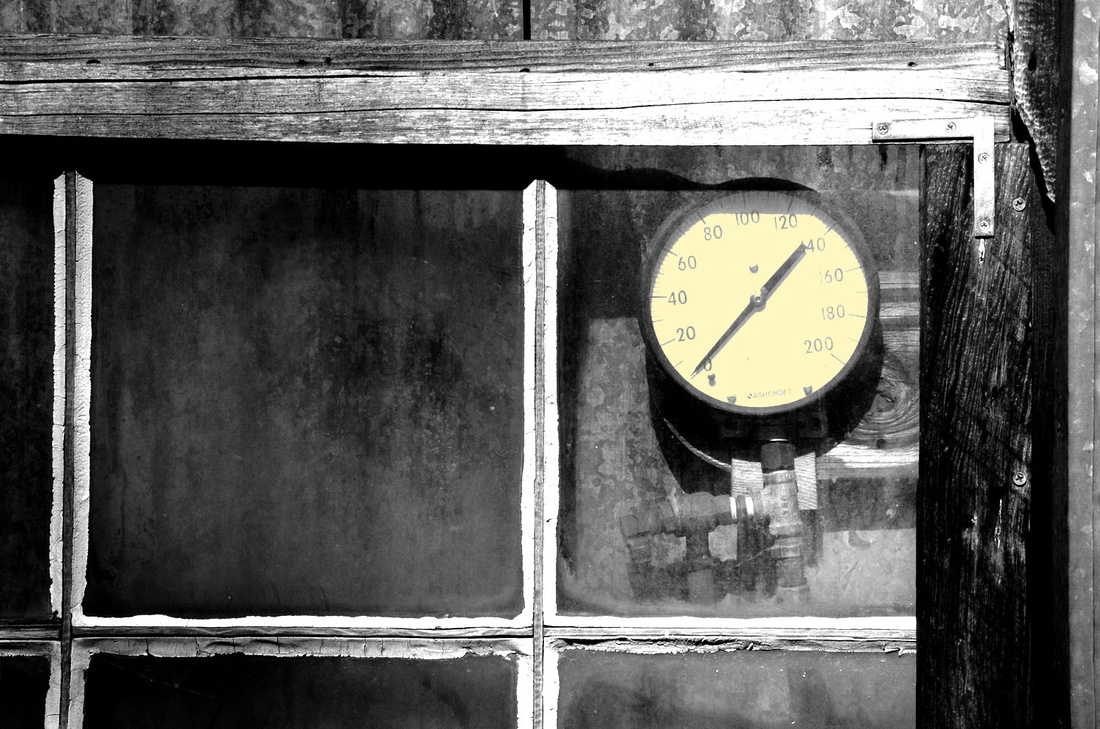 Northeast of Pine Grove, on Shake Ridge Road, we found this abandoned Ford pickup, so I had to stop and take a few shots with my telephoto lens, since it was 'parked' away from the road. The color version just didn't look too eye-catching, so I used Photoshop 9 to give this rendering for the Abandoned theme.
An Abandoned oak leaf and telephone pole are the next subjects in this macro shot taken at Cosumnes River Wildlife Preserve. I was drawn to the angles, weathered wood and the red blush of the leaf. Plus, the blue on the metal is striking.
My last Abandoned theme photo is of homeless Mark from Oklahoma sitting on a Sacramento River promenade bench watching the world go by. We didn't ask for his story, but he was more than willing to talk about incidentals - like he has two blankets to keep him warm at night. Nikon D7000 and 12-24mm wide angle lens, cropped.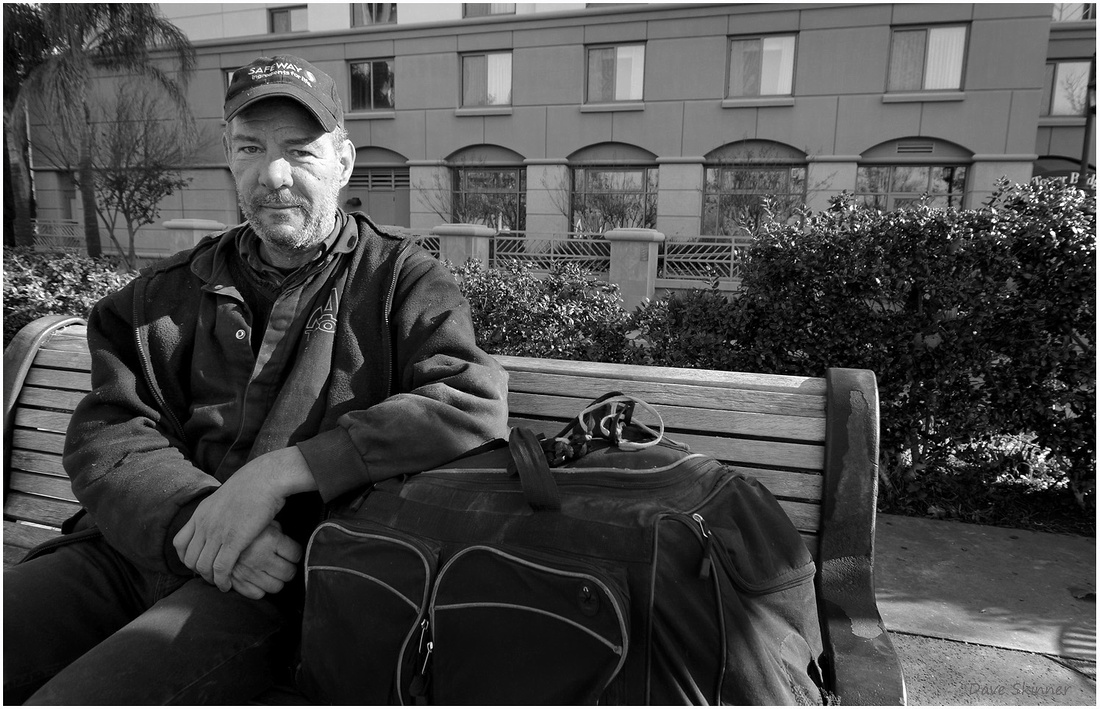 Sometime we're surprised by ordinary things, like this apple core on the side of the road at the Preserve. Not worth a second glance, except when I saw all the ants on it. This is first thing in the morning and the ants weren't moving, it was so cold. Fitting the Yummy theme, we could also toss it into the Abandoned category as well.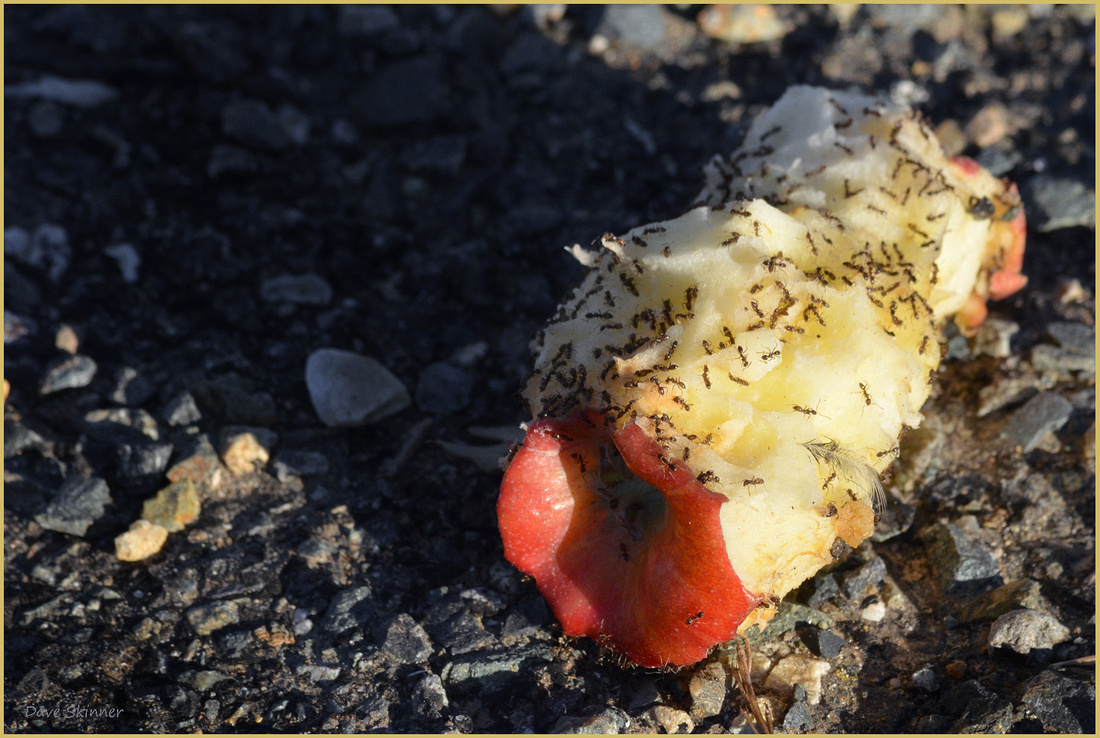 More in the Yummy domain (also fits the Trio theme) with these three custom soda bottles. These were in a candy store in Old Sacramento.
The following photos fit the White category. The first two were taken in Old Sacramento, which is a great place to find a wide variety of memories to take home with you. People are friendly, fun things to do, big selection of eateries, and history all around you.
White Delight with a little red accent:
My last White picture was taken at the Preserve when it was very foggy in the morning. Used a little creative license here to fool the eye and add some interest. Title: Three Faces of Eve
The final two photos fit the Trio theme for January. We can name them Down Below and Up Above.
I heard these sandhill cranes flying overhead and quickly aimed my telephoto at them, but they were barely visible in the fog. This should have been a throwaway picture, but with a little Photoshop work, it was worth keeping.
Here's the original I had to work with. Don't bee too quick to toss a picture that's poorly exposed or out of focus. You can use Elements or other programs to find something worth showing.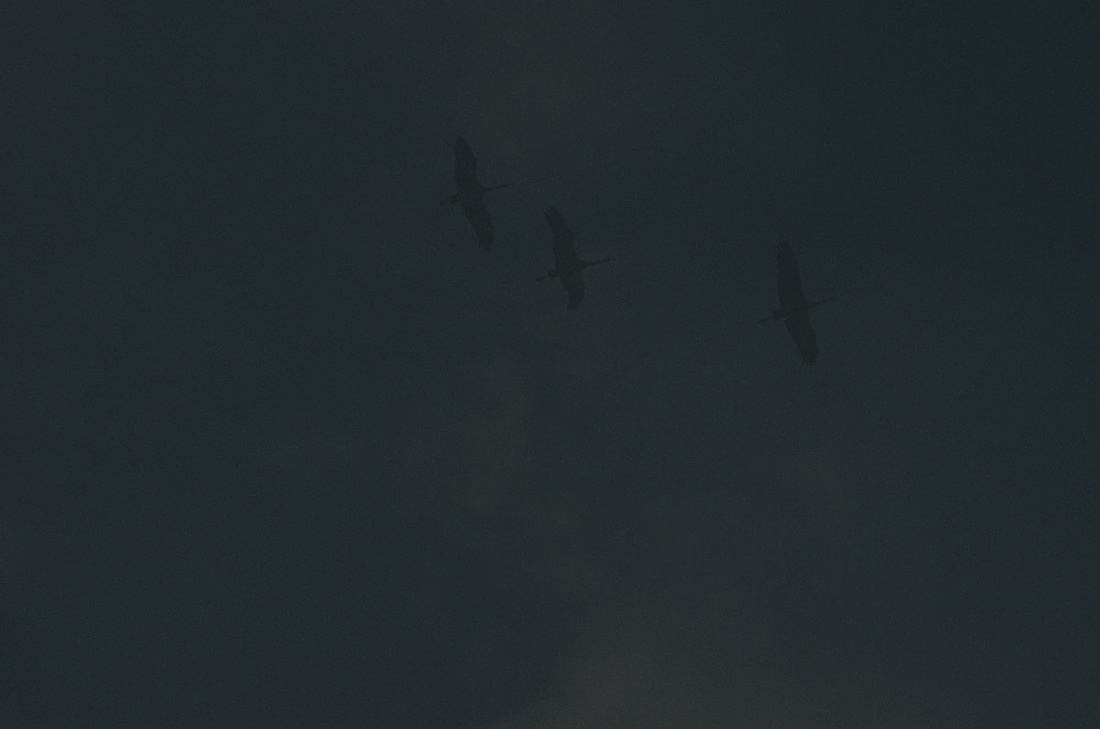 ***************************************************
And now, another month is ahead of us, although it only has 28 days in it. We're off to a good start and with the weather turning warmer, we'll have little excuse for not taking our cameras with us here and there.
February's Challenge Themes will be:
1. ROMANCE
2. RED
3. EYES
4. WORDS
5. UPSIDE DOWN
If you'd like to see all of the Challenge photos at their original (sent) sizes, you can go here: http://wordydave.zenfolio.com/p960307740
Happy shooting, everyone.