Here we go again. Another month's photos in the hopper after trip to tropical paradise (Don) and four visits to the local wildlife haunts (Dave). Hopefully, a few other busy folk will send in their photos soon so we can add to the repertoire. I know December is an unusually busy month, and we've skipped it for the past few years. Some of you may get some great captures that you're dying to share, so we'll break tradition this year and feature a "My Favorite December Photos" theme.
The winter rains have started in earnest, thankfully. I have a feeling it will be open storm doors until March, which will either dampen (PI) our spirits or challenge our commitment to shoot no matter what - a Post Office mentality for some. I'll try to focus on more indoor challenges to keep all of us wusses dry and comfy.
**************************************************
Mr. Don will start off the Challenge with his submissions. He says, "Here are just a few of the shots from the Maui getaway. I have finally recuperated from the ordeal. Came home with a raging sinus infection probably brought on by snorkeling and flying. I took about 700 shots and spent days in processing them down to 127 'keepers'. In the Green category, we have my favorite tree, the palm where it belongs..... in Maui."
Don and I have a mutual disgust for any palm tree north of San Luis Obispo in our fair state. Northern California hasn't been tropical since before the Noahic Flood, and it is insulting to imply otherwise.
The next three submissions are in the "Strong/Bold Color" challenge category. "For the strong color, there is the Bird of Paradise, Pink Hibiscus and the Rainbow Eucalyptus. All were shot with the Nikon D300 and 18-200 lens. I filled the distracting background on the Hibiscus to make the flower pop."
I always picture a green Maui and environs dotted with these floral bursts of color everywhere. I've never been there, so can't say for sure.
The pink hibiscus has been isolated by Don's use of blacking out here and there in the background. The alternative is to carry a 12" x 12" piece of black velvet in your camera bag to use as a backdrop. The hard part is finding someone to hold it for you! And, no, I don't use one either.
These rainbow eucalyptus are beautiful and very photogenic. I think there are some in Morro Bay down at the landing parking lot below the natural history museum. Maybe not.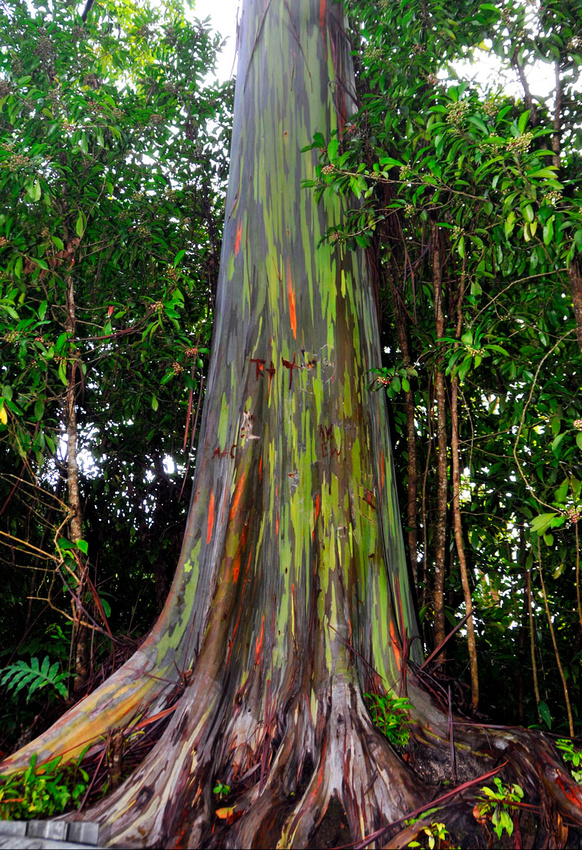 Don's Close-Up photo captures the intricacies of an unnamed leaf in Hawaii. I'm going to guess it's a Ti plant with a radical Photoshop hue slider going on - from green to red. That's one way to spice it up. Don, let me know if my guess is correct (about the slider). He didn't say, but I assume he used his 60mm macro lens on this one.
For a final photo that meets the Challenge theme of 'Angle,' here we have Don capturing Janet's favorite burger hang-out. "Shot on a clear starry night with the Nikon Coolpix." Note the starry sky and sharp focus. That means he either used a tripod or propped his camera on something while shooting. Great shot, Don. Pretty cool that there are burgers in space.
***************************************************
Old Davy's shooting was extremely limited in November, but he tried to cover all four Challenge themes while doing the 'back to nature' thing. With the changing (and still warmish) weather, fall leaves are still holding on here and there. Blue skies are turning gray, which can be a big plus - no horrible shadows and blown-out highlights to deal with - evenly lit landscapes and close-ups - morning dew drops. The waterfowl here in the valley increase, and their habits offer interesting opportunities. Winter sunrises and sunsets are the best, especially before and after storms. And fog can add a somber, ethereal touch.
So let's not give up taking pictures just because it's another dreary looking winter out there.
There's a lot of Green at the Cosumnes River Wildlife Preserve. With so many waterways, ponds and flooded fields, you can't help but run into it. These cattail reeds (and others) are home to red-winged blackbirds, but are frequented by other foragers who flit here and there, like this red-capped kinglet who's giving me the once-over. The kinglets land for maybe 2-4 seconds in one spot before flying to another a few feet away. It's almost impossible to zero in on them. And using auto-focus in the reeds is mostly a joke because it's almost impossible to focus on a bird when it's surrounded by them. This little guy/gal landed in the perfect spot for me to get a pre-focus, then move my camera to the left for the composition. I've used the Paint Daubs filter to give it a grainy look.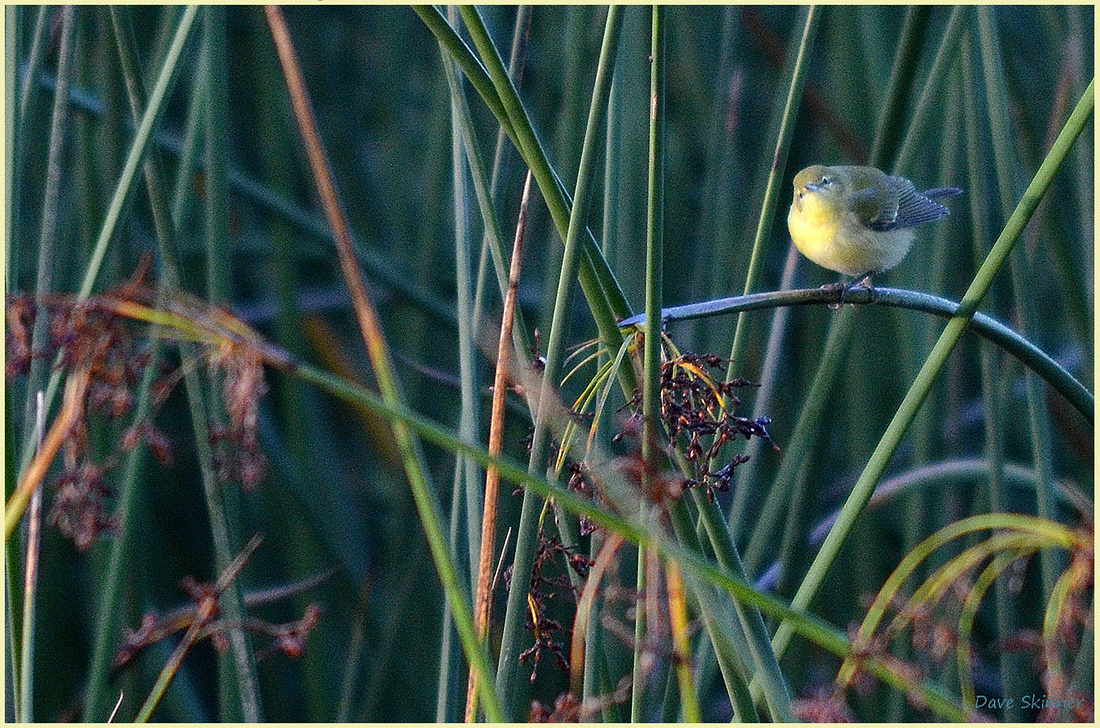 This shrub at the water's edge was screaming for me to take its portrait, and since it was Green, I obliged. You can still see some remnant yellows and reds in the foreground trees, but I've purposely let them partially silhouette against the bright green.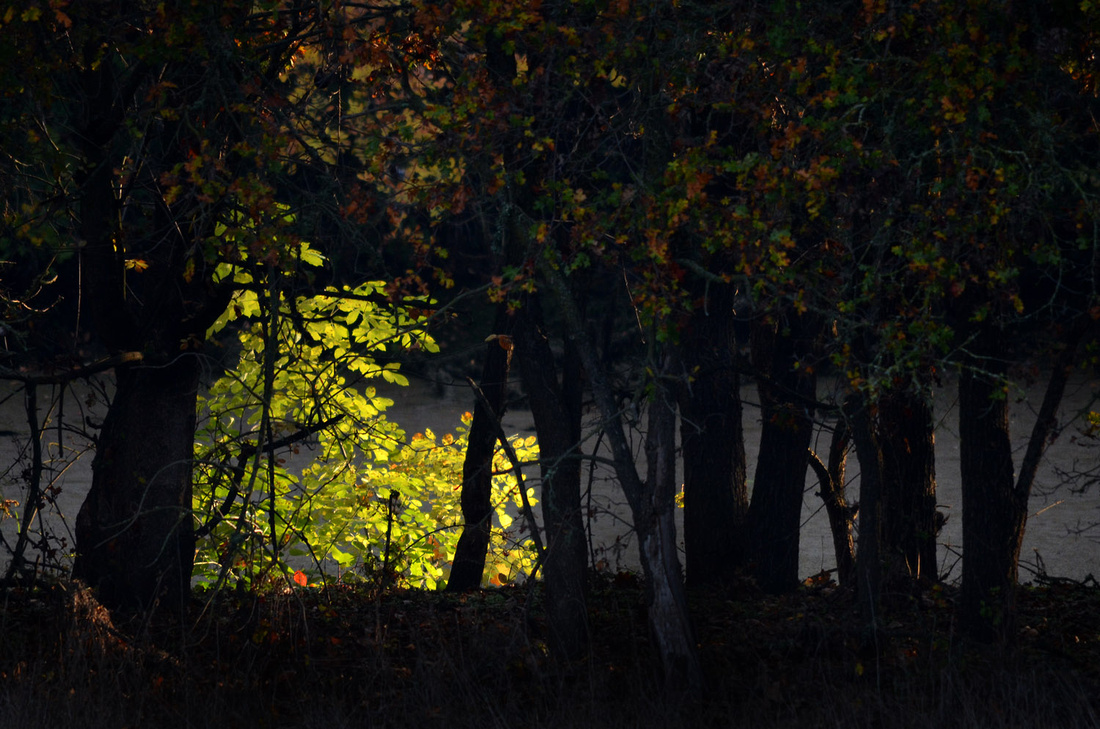 My final Green photo shows some of the variety of green in nature. Moss, lichen, leaves - each contributes different shades (tints), intensity (chroma), hues and lightness. This oak branch scheme struck me as worthy of shooting. I could have taken a close-up, but chose to keep the full identity and strength of the tree by including its shape.
Shooting into the sunrise on a foggy morning on Staten Island Road (about 5 miles SW of the Preserve), I've intensified the colors slightly in this next entry to fit the Bold Color category. The original photo included the sun and more field grass to the right, both of which were cropped out.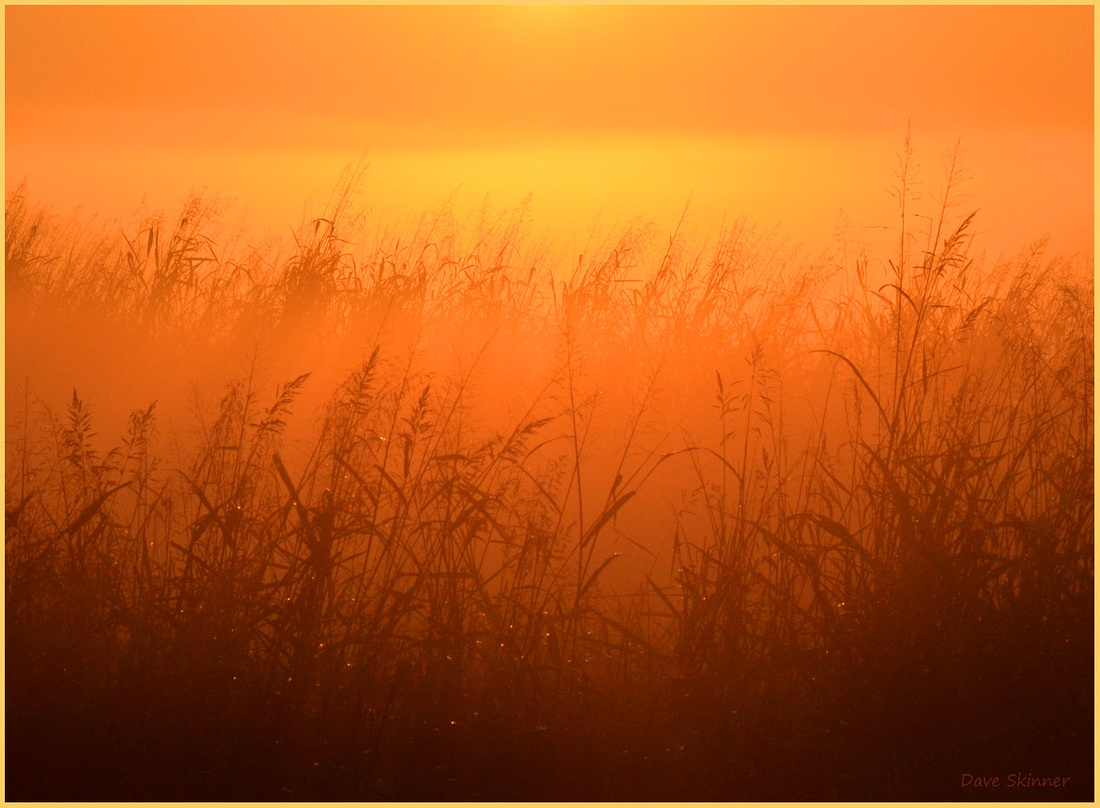 Here's the original picture. Note that lenses do weird halo things when you shoot directly into the sun. That's one reason for the crop. And I wasn't really happy with the dirty yellow color. I wanted something warmer.
Driving back home from the Preserve one day, I pointed my telephoto toward this power line parade just north of Eight Mile Road on Interstate 5. [Warning: Do not attempt to take pictures in a vehicle traveling 65 miles per hour unless you're an expert like me!] I've cropped and colored it (remember, the sky is gray overcast). This fits the 'Angle' theme for November.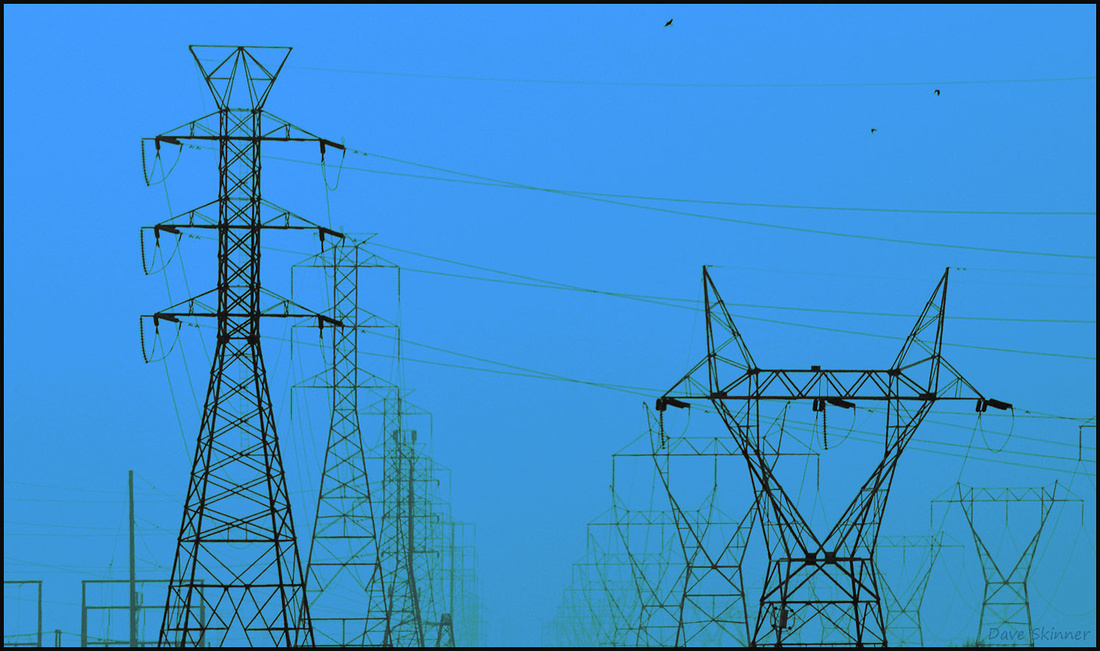 While stumbling through the underbrush by the kayak/canoe launch at the Preserve, I found this wonderfully rare (I think) anomaly on a blackberry bush. The leaves didn't separate at birth and formed the appearance of a butterfly. Pretty cool. This is both a Bold Color and Close-up entry. Taken with the Nikon D5100 and old MicroNikkor 55mm close-up lens.
Here's another macro shot, taken on Bruceville Road at the Preserve. Everything was dripping wet. Tripod, manual focus and settings. Nikon D5100. Nothing spectacular, but it's fun to see water drops on spider webs. Note the extremely shallow depth of field, due to using an f3.5 aperture.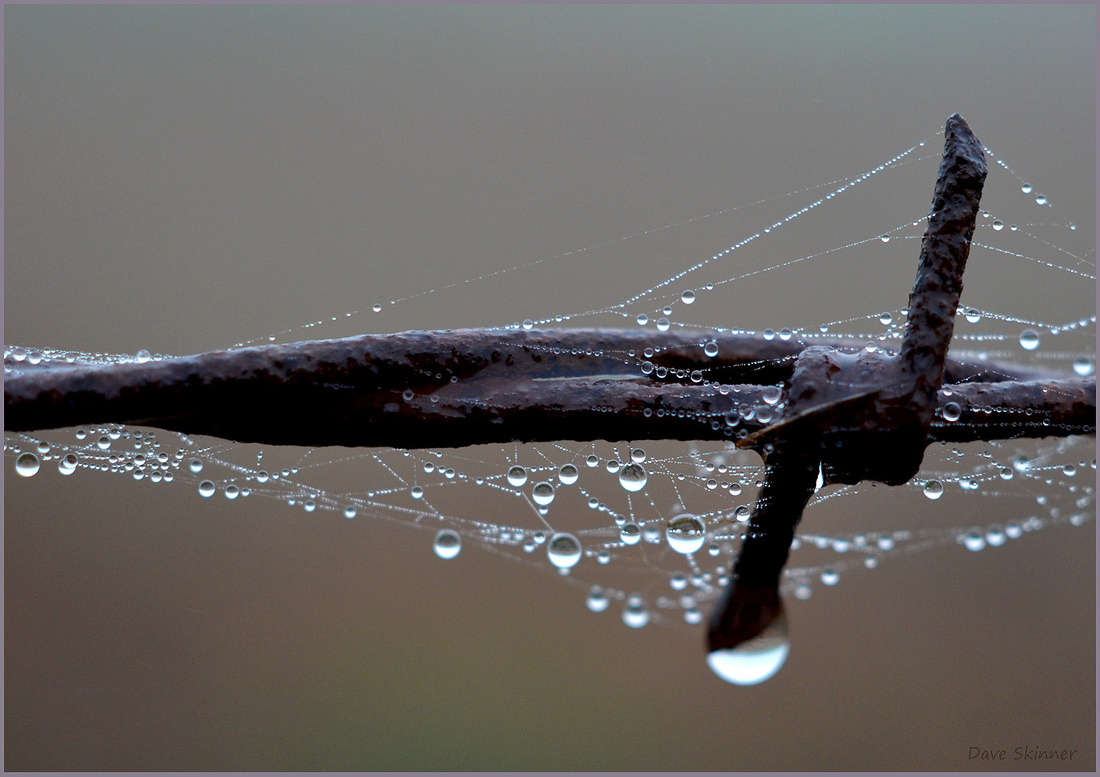 One more 'Angle' theme shot, taken in the middle of Franklin Blvd. at the Preserve, near the oak tree photo I posted above. I was intrigued by the hexagon pattern in this manhole cover. The oak leaves added a sense of place and color contrast. D5100 Nikon and MicroNikkor 55mm.
***************************************************
Ginnie has skated in just under the wire to add a most unusual macro capture of a poor victim of the fly swatter. She says, "You should know better than to give me a beautiful hand-tooled leather flyswatter for my birthday, little brother. Canon S3 IS, f/8, 1/1600 sec, 400 ASA. Set on Super-Macro, lens touching the window."
What a way to go! My sis has a terribly warped sense of humor, but we all still love her!
******************************************
Again, we've come to the end of the show, sans Bugs Bunny. Hope you've learned a little more about what to look for when you're clicking away and been encouraged to get into the spirit of giving by making more memories for yourself, family and friends.
Our December Challenge theme will be "My Favorite December Photos." Easy to remember. I know we're all extra busy this month, so you won't be hurting my feelings by not participating.
Let's all remember the Reason for the Season: celebrating the birth of the Lord and Savior Jesus Christ - loving each other - and giving out of that love.