Winter is approaching. The clouds are opening. The rain is starting to fall. Leaves are turning color. Time to bundle up and drink some hot cocoa. And it is the perfect time to grab your camera and find some memories to capture.
October's challenge themes were:
- "O" for October
- Event
- Black and White
- Aged
This was one of the busiest month's of the year for me. Barb and I headed to Paso Robles for a week of visiting friends and family, enjoying the Pioneer Day festivities and traveling to the coast a few times. Thankfully, Liz and Angel were able to go also. Good memories and great shooting. Don and I traveled the area, looking for great sunrises, moonrises, fall color, old barns, sentinel oaks, and ocean spray. My cameras got a real workout after taking more than 1500 pictures. Great fun.
********************************************
We'll start with Megen's submissions, noting that only pumpkins were injured in this first photo. "O" for Orb Launch is the title, and let's note that Meg didn't really have a choice but to include another orb - that small star, otherwise known as the sun - in her picture. Her camera is shooting at a rather high shutter speed, freezing the mid-flight pumpkin and launcher to a large degree. And I'm guessing the flash was on since the launch posts are showing a lot of detail in what would normally be dark.
Meg's second entry is called Aged Extreme to fit the "Aged" theme for October. Looks like this guy has been left in the weather for a few years and getting ready to celebrate another Xmas.
Meg's family went to Yosemite and had a wonderful time biking around, seeing the wildlife and being awestruck by the beauty of God's creation. The drought is affecting all of California, even Yosemite. Here's her shot of Mirror Lake, sans water - much different that when Don and I were shooting there in February, 2013. She's entered this in the "Event" category with the title, "Drought."
Pumpkins also qualify for the "O" theme since they're "Orange" in color. Nice detail in Megen's close-up: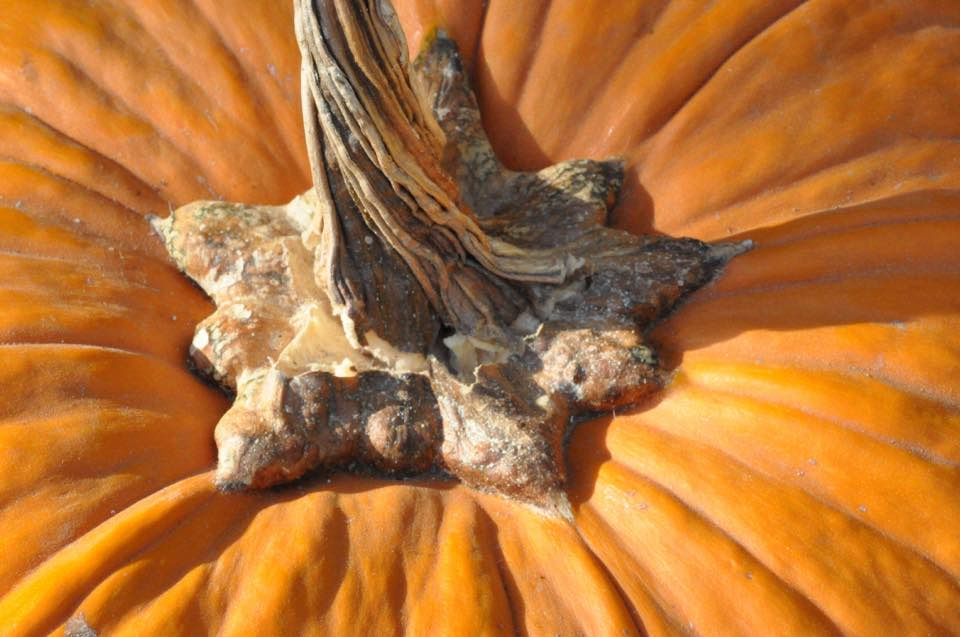 Meg's "Black and White" theme entry fits the bill, as her pup, Timber, smiles for the camera.
***********************************************
Let's peruse Don's photos next, starting with "O" for Old Guys Rule. Check out that guy with the red hat on, looking like a photo geek in the middle of the street. Don used Photoshop Elements to add the 'flash' on my camera. I like the slower shutter speed, which added movement to the little Chiquita's swirling dress.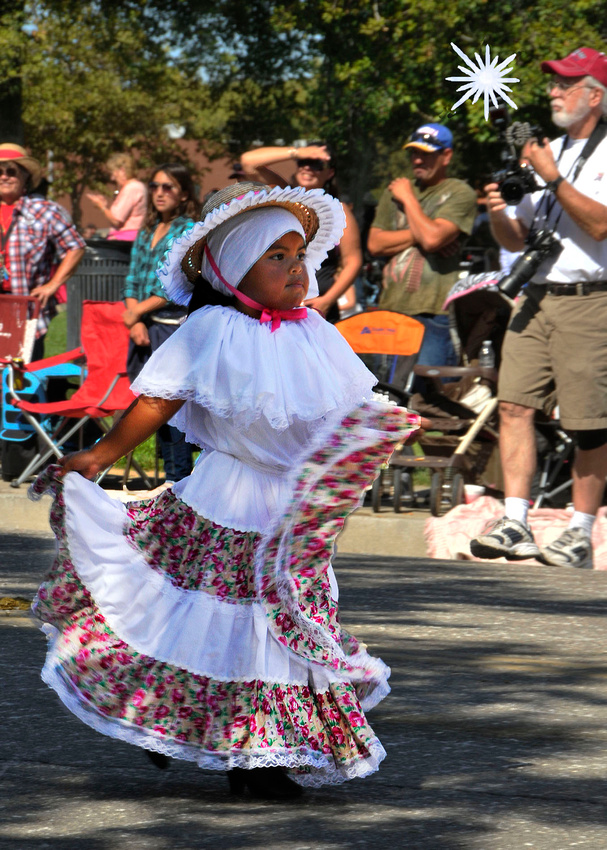 Here, Don worked hard to balance the light in his Cripple Creek barn for the "Black and White" theme. This barn is located east of Paso Robles and is a favorite spot for photographers and artists with brushes. The grizzled oaks add to the western aura of the scene, and the low sunlight position makes for great shadows.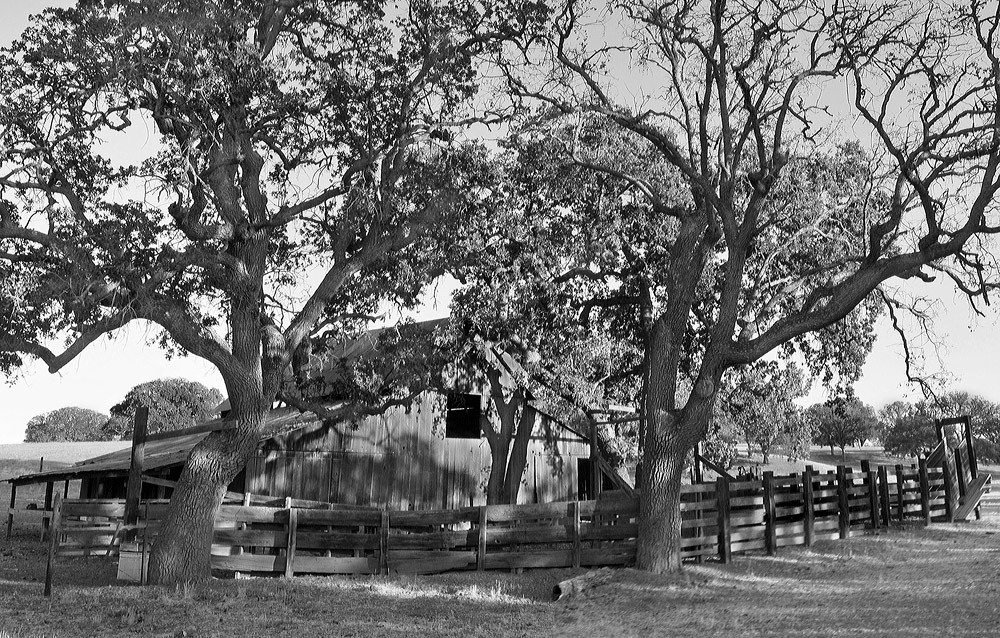 One of the biggest "Events" in Paso Robles is the Pioneer Day Parade. Here is wonderful example of Mexican American horsemanship, which was an important influence in the area's early ranching days. It looks like Don was using his flash for this shot, as the rider's face is perfectly lighted, and her black horse shows a lot of detail. Great photo, Don.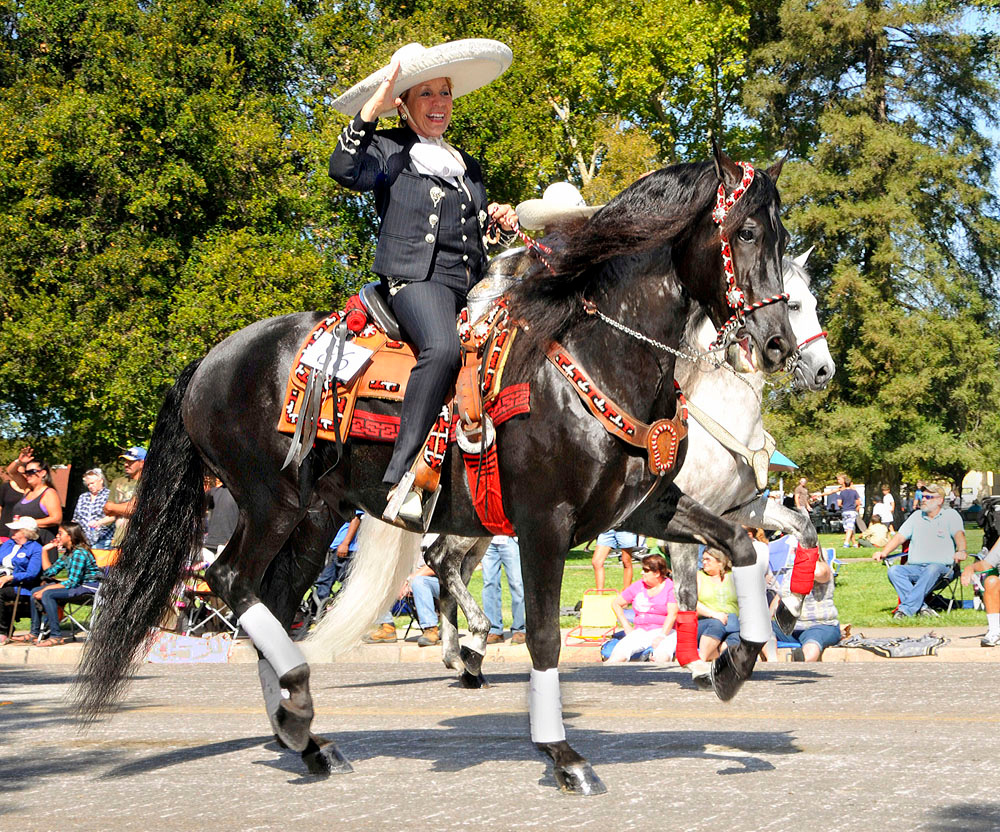 I guess we can fudge on this Caterpillar Yellow tractor by saying it borders on "O" for Orange, and thus fits the "O" theme. Whatever it is, it's sure BRIGHT! Did we say BRIGHT? So bright that the driver had to wear sunglasses. Nice details here, too. Don shoots with Nikon's 18-200mm zoom, a great lens.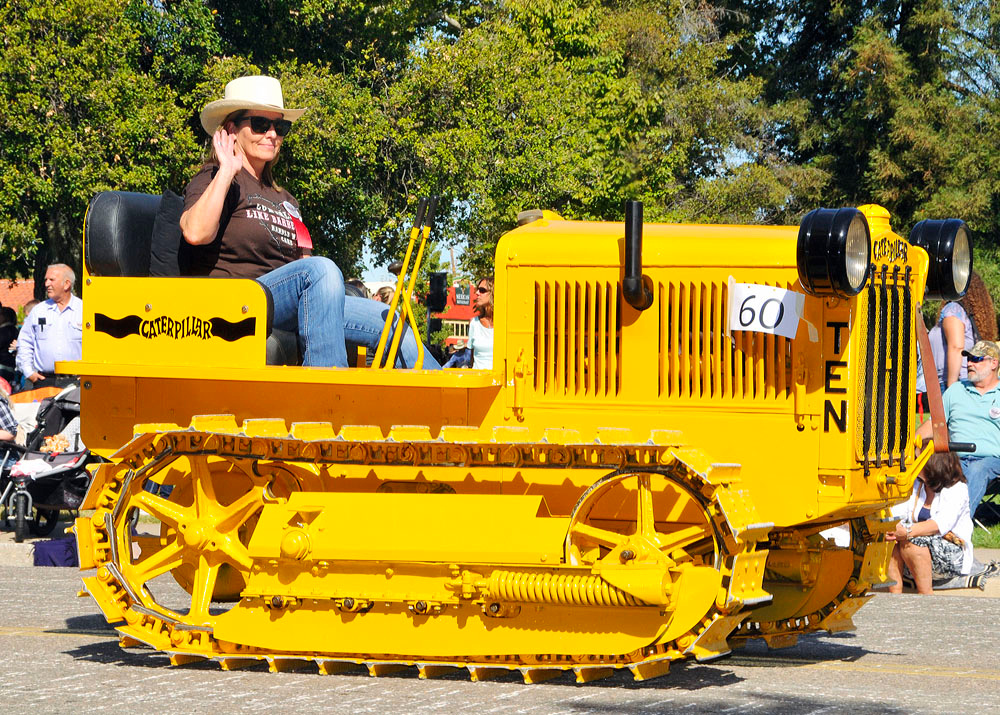 **************************************************
Dave has culled four shots from his October vacation time in Paso Robles. The first is for the "Aged" theme, taken at the park by the Pioneer Museum, where the old steam engines were on display. These two old birds were chewing the fat while their picture was taken. Dave should have been a little lower for a better angle, but he's still learning the trade.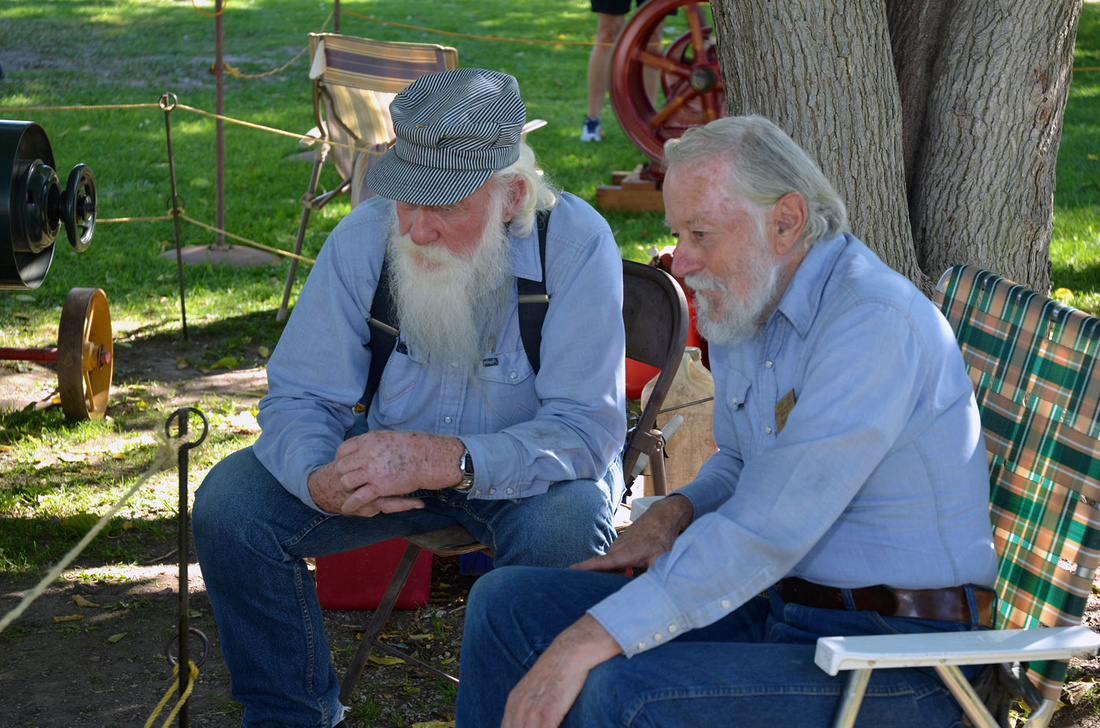 Hearst Castle is a true diversion from the mainstream tourist spots. Extravagance on display. Dare we say "Opulence?" Here we have the "O" theme covered with a montage of art and architecture.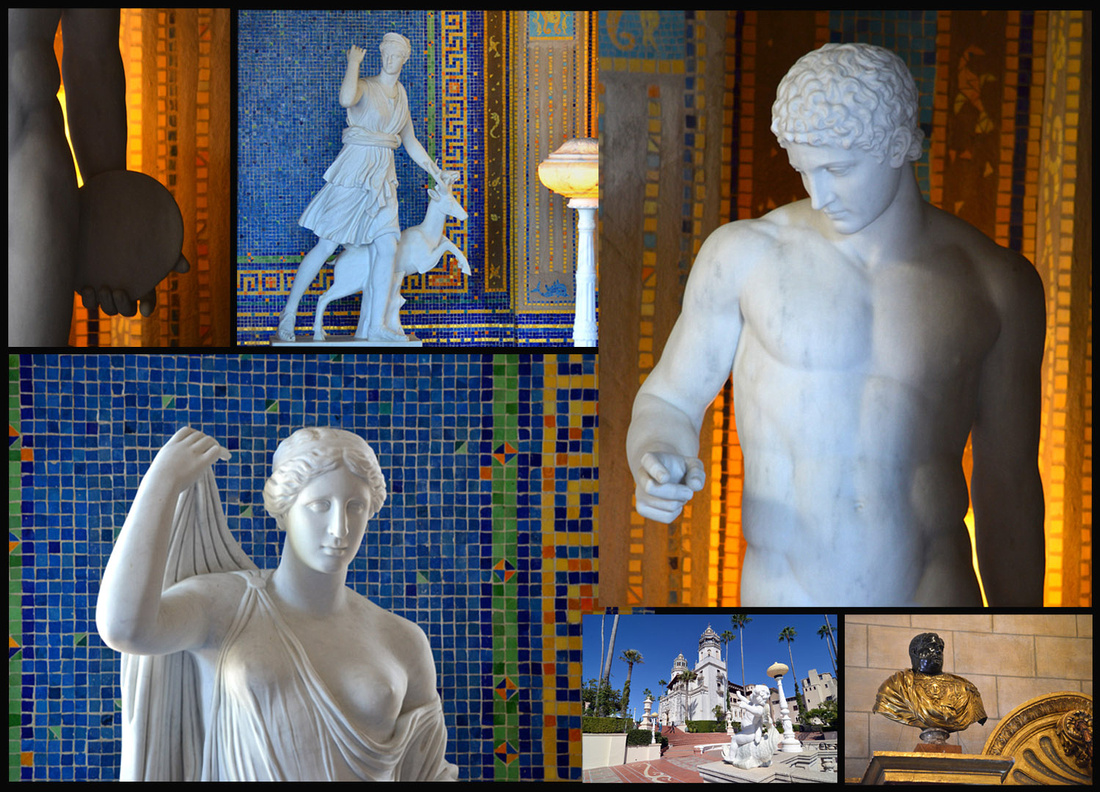 Dave really likes shooting events, but more so, the people at the events. These girls capture the fun of girlhood, the spontaneity of the moment, and pure American patriotism! Unfortunately, they'll probably never see this photo.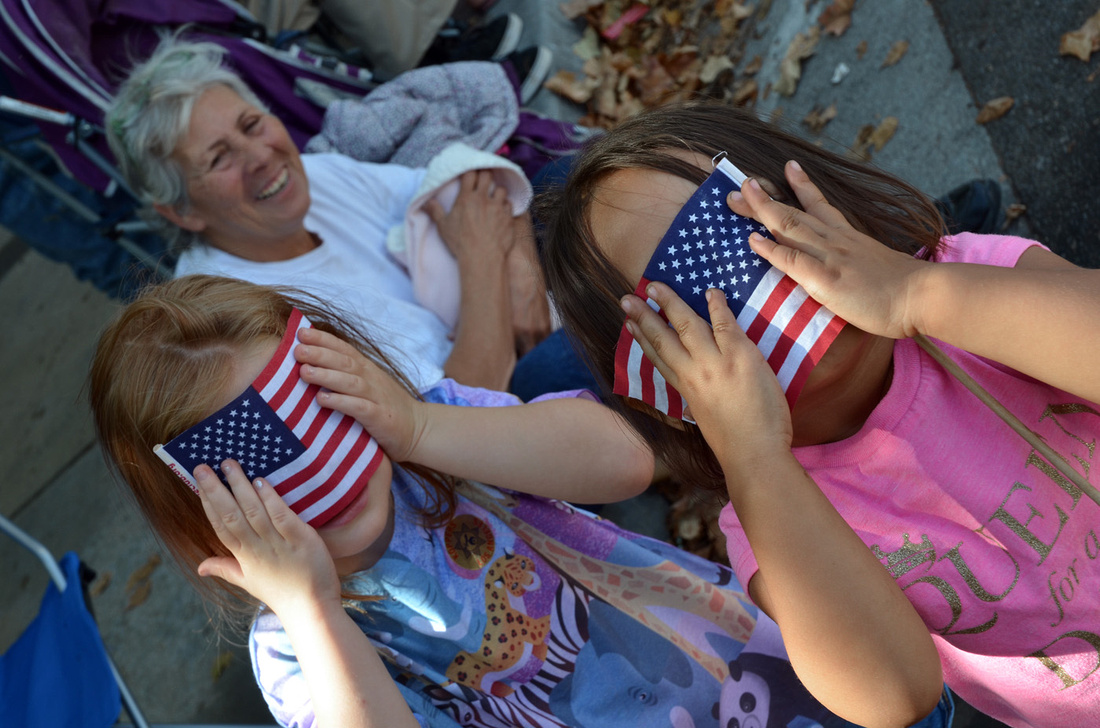 Dave's favorite vacation photograph was taken on Ranchita Canyon Road, northeast of Paso Robles. He and Don were out before sunrise, scouting Hog Canyon and vicinity for some great shots. When this bend in the road offered a nice minimalist abstract with clouds doing "the Dance," Dave knew this would be a memorable composition and decided to convert it to "Black and White." He'll probably get this one printed and framed, even though it's not perfect (a bit too much empty space in the upper left).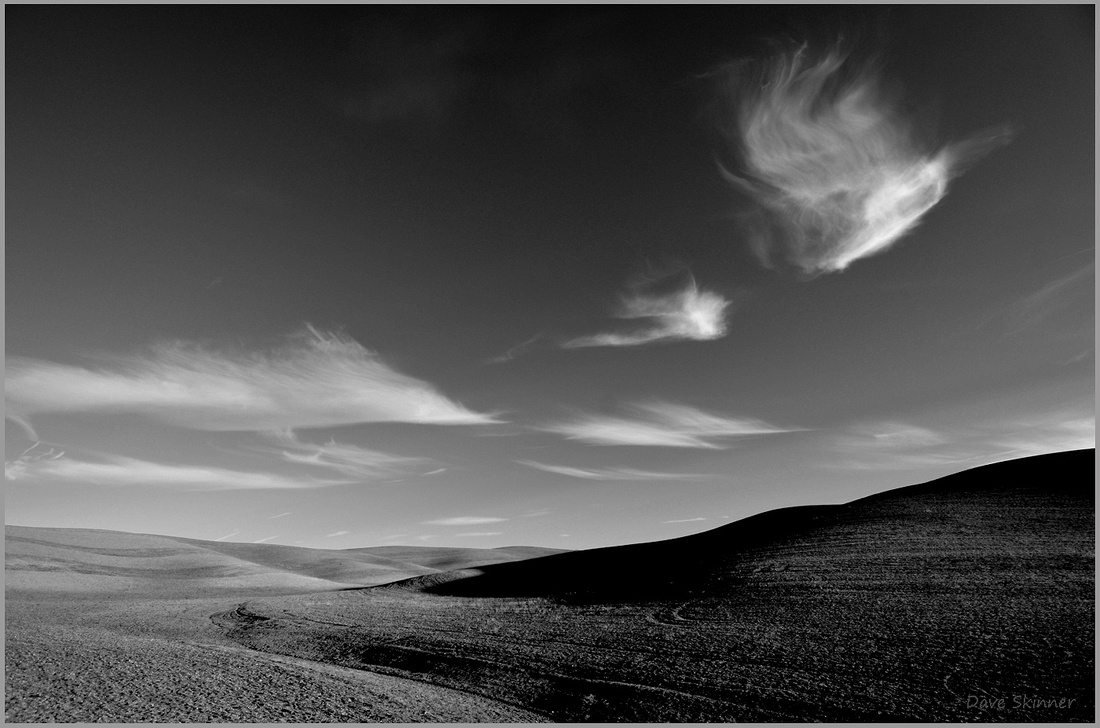 ******************************************************
Miss Ginnie is our last guest for the month's Challenge, but certainly not least. She wasn't going to send anything in, but this reflection shot of her patio chair and table during an "O" for October Rain caught her eye, and she had to get it. Thanks, Gin.
*****************************************
Well, another month is in the can. Thanks to everyone for sharing their favorite photos. It's fun to see each other's handiwork.
November's themes will be pretty simple:
- Green
- Close-up
- Bold Color
- Angle(s)
This will let you get all the fall color you want, do a food shoot of some split-pea soup, put a magnifying glass in front of your eye and take a selfie, and find a few buildings to focus on. Easy-Peasy. Have fun, and be sure to thank God for His beautiful world and the fact that you can enjoy and appreciate it and the fact that you are healthy enough to get out and capture it on 'film.'
". . . God, who gives us richly all things to enjoy." I Timothy 6:17b