Our normally busy December was normally busy again this year for most of us. I think Yours Truly was the only one able to get out and corral some scenery. The weather didn't cooperate with all the rain, but who's complaining? Taking pictures in wet, foggy conditions will test your mettle, but that's why you have mettle - so it can be tested. I'm anxious to get some frost close-ups this week, but don't think I'll be able to.
*************************************************
It looks like Don didn't get out much, the poor boy. I can say this because he's told me as much when he sent his pictures for your viewing pleasure. "Just a couple of pics this month. We spent pretty low key Christmas. I thinks me needs to get out more." You're forgiven, my boy. But you need to make amends by submitting more in the January Challenge.
Here's Don's favorite kitty, Callie, enjoying some couch time while waiting for that special Christmas present: sardines in a can! She will certainly be jolly after feasting on some scrumptious, stinky fish tails!
Don used his flash for this shot, but didn't get things overexposed. Note that Callie isn't looking at the camera. Can you guess why?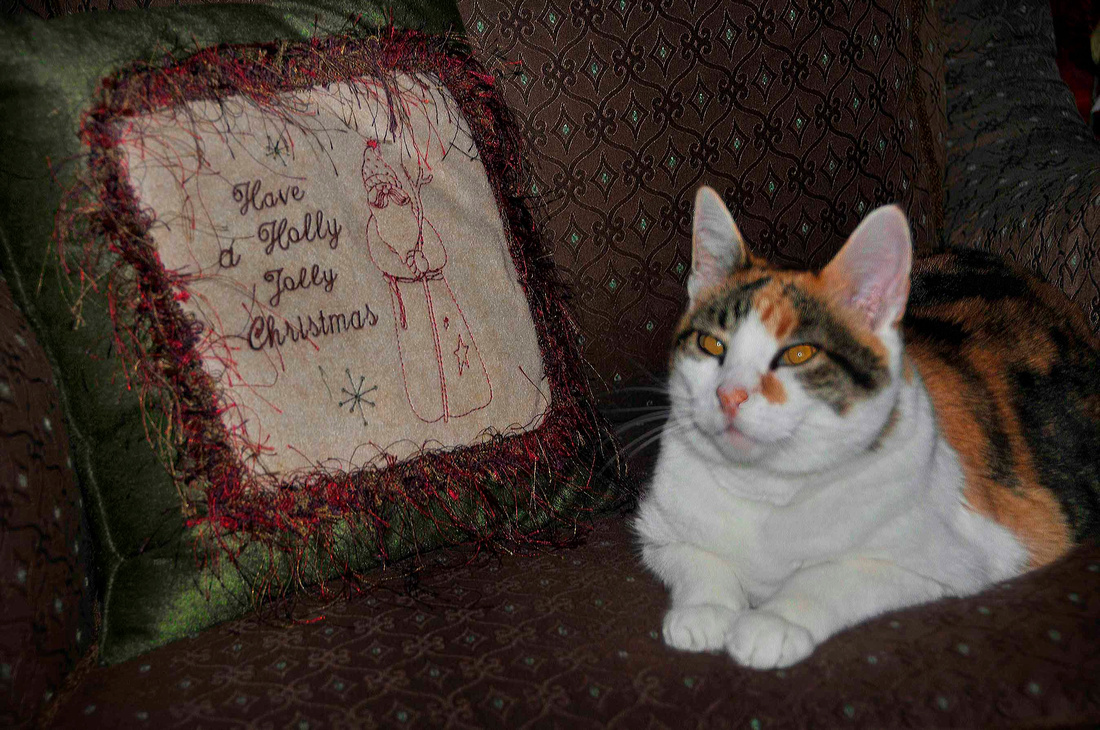 Don's second photo is pretty creative and proves you can actually have fun with your camera. I'm going to let everyone guess how he captured this bird's nest, keeping it in perfect focus while the tree lights are streaked. Put on your logic caps and figure it out. He'll let us know exactly how he did it, I'm sure. Don, you're a real magician. Isn't that real snow I see?
***************************************************
Dave took his days off as an opportunity to head into the wilderness (careful to be back around 9:30 each morning) and discover the blessings of being cold and miserable. With gloved fingers stinging, nose running, and cataract-plagued eyes blinded by the sunrise, he was still able to get a few favorites.
This first one was taken while visiting Tom and Barb Birks in Sonora. Their house is at the top of the hill above this tree line. We were at this place in the valley below them, visiting an Xmas boutique in the farm/ranch house. Pretty cool. I was intrigued by the pastoral scene, fall colors, pond and the two 'cowboys' riding their horses on this small spread. Nikon D5100, 55-300mm zoom.
This second photo was taken at sunrise on Staten Island Road, west of Thornton, CA. The cornfields are flooded after harvest for the winter waterfowl to call home, so thousands of geese, sandhill cranes, swans, ducks and other assorted birds feast and frolic, waiting for spring so they can fly north again. When I shoot birds, I try to get the best compositions possible. This means setting up for the landscape and waiting for the right amount of birds to be in the right place before snapping the shutter. Predicting flight patterns helps here. I don't use the continuous shutter feature - guess I should, though. The larger challenge is focus. If using auto focus with a telephoto lens, there will be a lot of 'lens seeking' if you're focusing on just a few birds. Better to pre-focus, then switch to manual focus. Just remember to switch back to auto-focus afterwards.
This heron hangs out at a backwater pond between the main road and parking lot at Cosumnes River Wildlife Preserve. Easily spooked by the slightest threat, it takes some stealth to get close enough for a good shot. After spotting him when driving by on the main road, I turned back and pulled into the parking lot. Walking out of the lot and across the main road, keeping as far away from him as possible, I used a 3' diameter tree at the water's edge to sneak up on him, carefully keeping the tree between us as I crossed the road and went down the bank to the tree. There was a fork in the tree at head height, so I slowly raised the camera into it for the picture. A few branches were in the way, but I was able to get this capture from that position. Then, wanting to have a clearer view, I crept toward the side of the tree. Before he was in the viewfinder, the big boy jumped up and flew away. Camera shy and a large part chicken. But I was happy with the pose he let me have before saying sayonara.
Fog is a challenge. Very little color. Very little contrast. Very little warmth as you're bundled and gloved. This particular photo was taken right when the sun was starting to peek through. It bathed everything with a pinkish brown cast. I could see the sandhill cranes coming into the composition and waited until they were right where I wanted them. Tripod. Zoom lens.
My last favorite shot was taken on Staten Island Road just as the sun was rose. These willets were flying in unison, partly in the shadow of the levee road, with the sunlight bathing half of them with a reddish glow. These birds are gray when the sun is high. I like the contrast of the pink and blue water reflections. This is the only capture (out of dozens) where they are in a turn. I'll have to go back and try to get more of them in this position where you can see their white wing banding.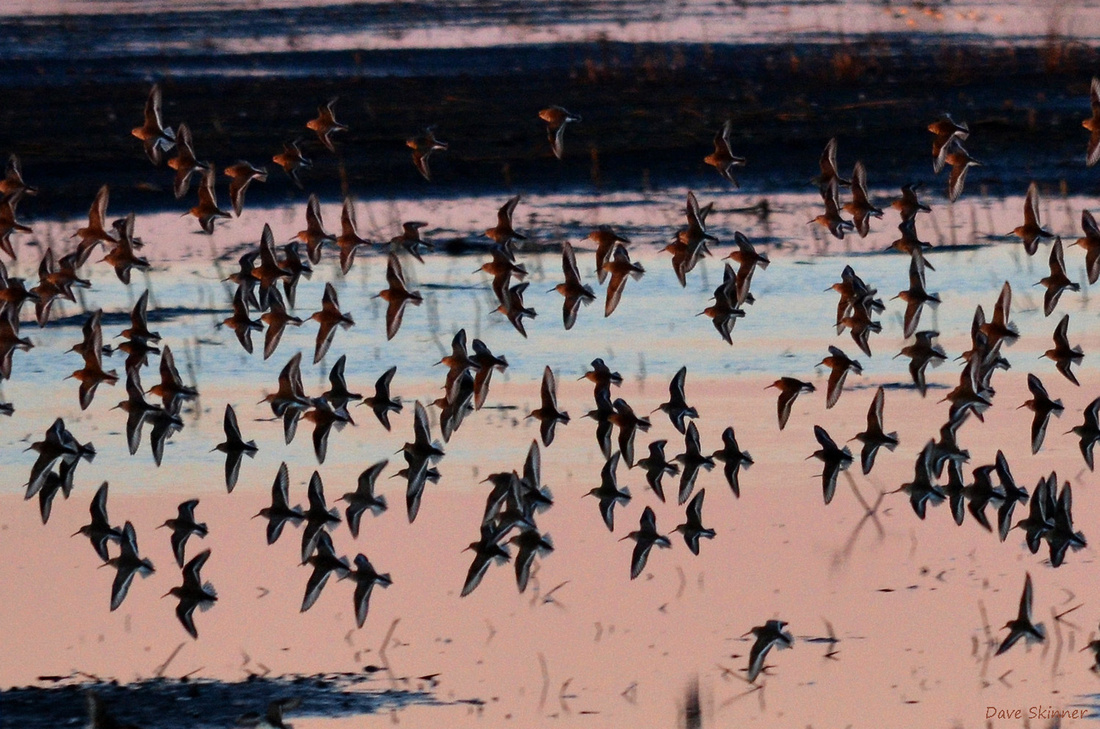 *************************************************
Unfortunately, this blog site limits the width of our posted pictures. They would be more impressive if we could view them at their original sizes. Such is life. We who beg cannot be choosers as well.
The old year has now vanished, leaving behind its memories. That's all we have now. Tempus volat, nunquam repetiit. Time flies, never to be repeated, but we hold those treasured thoughts in our hearts, the good, the bad and the in between. May God give us His grace as we look to this new year and trust in His wisdom, mercy, blessing and hope.
Heads up and write these down: the January Challenge themes will be . . .
1. Yummy
2. Abandoned
3. White
4. Trio
5. Low Tech
Happy New Year, everyone! And Happy Shooting!