February has come and gone --- a short month that flew by for most of us. And with the warmer weather, there were a lot of distractions that kept us from zeroing in on the challenge. Add to that the limited challenge themes: ROMANCE, RED, WORDS, EYES, and UPSIDE DOWN, and we were really in a pickle. The March challenge will prove a little more user friendly, hopefully.
*************************************************
Don graces us with a number of EYE theme photos, courtesy of the local Atascadero Zoo. He writes, "We went to the Atascadero Zoo for these. I wanted to get a photo of the tiger, but he was off in a corner of his cage snoozing. Wouldn't even open his eyes for me!" Don, you needed to offer him "Steak on a Stick" during your next visit. We'll let everyone guess who these eyes belong to: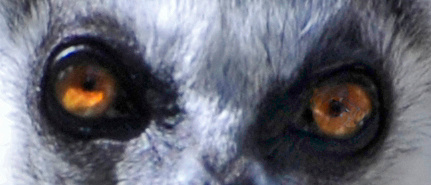 ********************************************************
Yours truly, Dave, found it difficult to target the ROMANCE theme, especially when mainly shooting nature. But even nature has its romance, so there is one photo that may apply. This happy couple was inseparable as they foraged in the February grass at the Preserve. There weren't any other quail around as they scratched and kept watch about 15' from me on the trail. I kept expecting them to fly off, but they just went about their business. Ah, true love!
You don't need much explanation for this Cosumnes Preserve portrait of a little tree, other than to say, "UPSIDE DOWN." Sorta looks like a fast shutter speed with the wind blowing leaves around in the air, but we know better.
A bit of red for February's RED theme is next. This guy was feeding on last season's cattails, flying from one to another, calling/singing when perched and enjoying the morning sunlight. I used a fast shutter speed to freeze the action and retain some detail in the feathers.
I didn't plan for the WORDS theme, but had taken this sign photo after driving by it a number of times but never stopping. Walnut Grove Road, just west of Thornton, CA on I-5.
The last February category was EYES. Now this shot was planned (although planned on the last day of February). I had Angel and Elizabeth stand side by side in front of the sliding glass door to get enough light. I boosted the ISO to 800 and used my new (new to me) 60mm AF MicroNikkor. This was the best of about 6 shots. I took out the face color, because Liz is a lot darker than Angel and was partly shaded. I used the dodge tool on to lighten the dark areas under Liz's eye. I accentuated and isolated the color in Angel's eye to add some interest. The depth-of-field is very shallow, so only a few areas are in sharpest focus. That's okay. P.S. The girls thought I was nuts posing them, but there was a method to my madness.
****************************************
Okay, that was fun, and the March Challenge will be even funner. Themes will be:
* SILHOUETTE (thanks to Bruce for this suggestion)
* SHADOWS
* SPRINGTIME
* SUNSET
* SHAPES
* SIMPLE
Hope your month is filled with God's blessings. Take time to thank Him for them. Happy shooting, folks!